Posted 1月 1st
by
admin
in
劇場用映画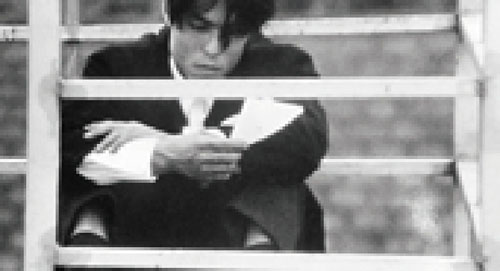 近代的殺人の本質を解析する、山岡信貴映像世界の原点。
ベルリン国際映画祭香港国際映画祭
ストックホルム国際映画祭
オーストリア・ビエンナーレ
他正式招待作品
–
1993年/カラー/82分
監督・脚本・撮影・編集・音楽 : 山岡信貴
音楽 : プリン爆発プリン
出演 : 川島充顕/町田知子/城山明英/田中信也
[解説]
1993年のぴあフィルムフェスティバルでの審査時、筒井康隆を激怒させるも黒沢清の強硬な推薦を経て審査員特別賞を受賞した山岡信貴処女長編。刺激的な映像とそれとシンクロすることのないサウンドトラックが異様な速度感を伴って見る者を独特の精神世界に引き込んでゆく魔術的作品。自意識の肥大がもたらす破壊行為を詩的手法で解析した内容も衝撃的であるが、一切の映画文法を構築しなおそうかとするような傍若無人な方法論には時代を超えた破壊力が秘められている。ベルリン映画祭を始め各国の映画祭に招待されるも必ず賛否両論にさらされることになった哲学的問題作。
——
The origin of the crazy image world of Nobutaka Yamaoka, analyzing the true nature of the modern murder
A film invited to the Berlin International Film Festival,
The Hong Long International Film Festival,
The Stockholm International Film Festival,
The Austrian Biennale, etc.
1993 / Color / 82 minutes Directed, screenplay, filming, edited and music by Nobutaka Yamaoka Music by Pudding Bakuhatsu Pudding Starring Jyuken Kawashima, Tomoko Machida, Akihide Shiroyama and Shinya Tanaka
[Description of the film]
This is the first feature film by Nobutaka Yamaoka that was awarded the jury's special award at 1993 Pia Film Festival with the strong recommendation by Kiyoshi Kurosawa despite enraging Yasutaka Tsutsui. This is a magical film, which takes viewers into a peculiar inner space by its exciting images and a soundtrack with a bizarre tempo that never synchronizes with the images. While the poetic story analyzing the destructive behaviors caused by the extreme self-consciousness is shocking, the outrageous methodology, which seems to try to reconstruct the whole film-making method, holds the timeless destructive power. This is a very controversial film of philosophical abstrusity, which brought on active debates over its merits at each occasion despite being invited to various film festivals around the world, including the Berlin Film Festival.